Nestled between the Santa Ynez mountains and Pacific Ocean is beautiful Santa Barbara. Our mediterranean year round climate gives us warm weather, and ocean breezes making for the perfect outdoor destination getaway. When recommending things to do in Santa Barbara, hiking to fresh water creeks, bathing in natural hot springs, and wading beneath waterfalls is a must if you're an outdoor enthusiast. There's nothing better than a nice relaxing hike and at the end of your trail, following a dip in the soothing natural hot spring. Beware clothing is optional at most California hot springs. Below you find more information on my favorite soaking spots in Santa Barbara, and directions to get there…Enjoy!
Seven Falls & 3 Pools
Just 10 minutes from downtown Santa Barbara is in Los Padres National Forest, and a 3-­‐mile hike will brings you to Seven Falls and Three Pools. Sculpted in the gorge, Mission Canyon Creek cascades over canyons and boulders, creating more than a dozen waterfalls. The waterfalls drop into bowls etched into the sandstone rock, forming deep, rock-­‐rimmed pools, which will send you hopping to the next rock to enjoy a dip and scenic waterfalls. From the trailhead on Tunnel Creek Road, follow the access trail for a little over a mile, then decide whether to venture up the creek to the base of Seven Falls, or hike the steep trail that winds up above the falls and down to Three Pools for a swim.
Click on the link below for directions to Seven Falls & 3 Pools
https://www.yelp.com/biz/7-falls-hike-santa-barbara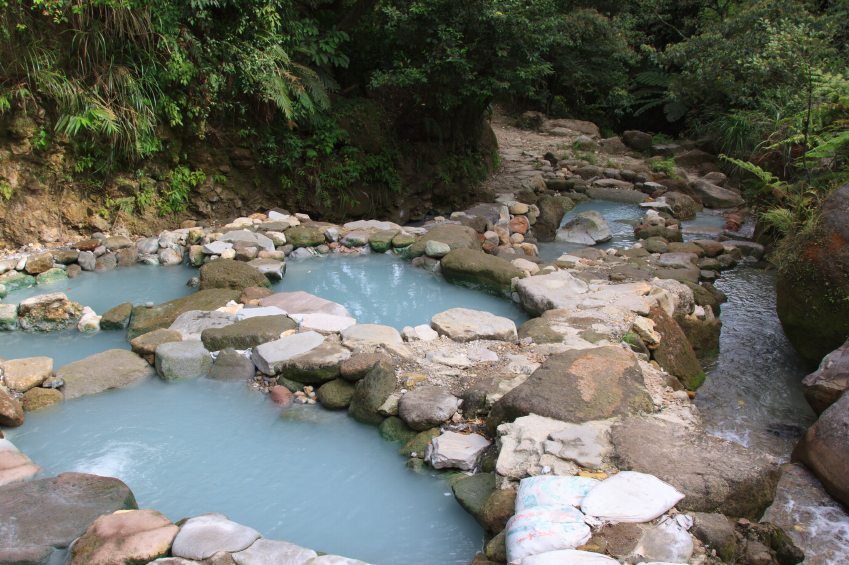 Gaviota Hot Springs
Gaviota Hot Springs/ Trespass Trail is a 6.5 mile loop trail located near Goleta, California.. The trail is rated as moderate and primarily used for hiking, walking, and mountain biking. The entire trail is a wide path that leads upwards with successively higher vistas of the 101 freeway winding through the hills. There is vegetation along the trail, but not enough to give much shade so wear a hat. The trail is uniformly, and moderately steep most of the way but gets slightly steeper at the end. At the top of the peak you get a fantastic view of the ocean which is hidden throughout the rest of the trail since you climb from behind the mountain. A nice side trip is a short hike from the trailhead to a hot spring. The milky blue hot spring is nestled amongst trees and foliage, creating a spa-­‐worthy, secluded feel. It's nice to take a swim in the pool after the hike or just sit on the rocks with your feet dipped in. Getting to the hot spring requires only a one-­‐mile roundtrip hike starting from the trailhead at the parking lot ($2 parking fee).
If you do Gaviota Peak, your total will be around 6 or 7 miles.
If you do the Campbell trail loop, your total will be around 11 miles.
If you just go to the hot spring, it's about 1 mile total round trip.
https://www.hikespeak.com/trails/gaviota-hot-springs-hike/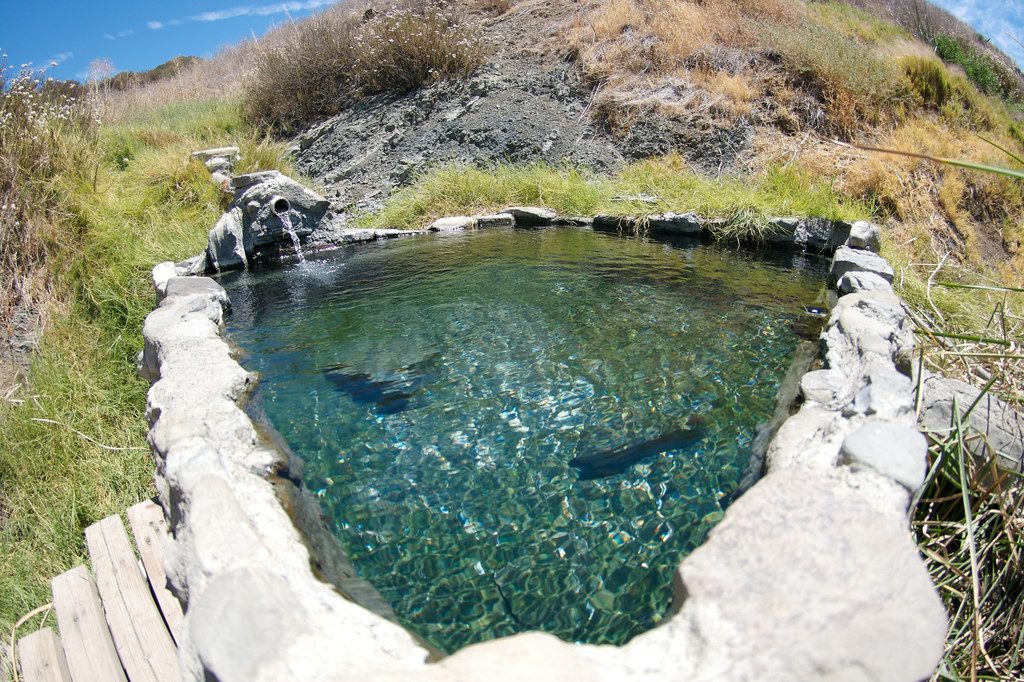 Big & Little Caliente Hot Springs
Those seeking an off-­‐the-­‐beaten path hot springs experience near Santa Barbara should find their way to Big & Little Caliente Hot Springs in Los Padres National Forest. Springs are very warm and can be reached by either a long drive, or long and strenuous 13 miles round trip day hike. The drive takes a couple of hours. Basically, the hike is a short-­‐cut! The trail is all downhill on the way there, and all uphill on the way back. You descend about 3000ft. It can be pretty difficult to do the uphill (3000ft back up) after soaking in the relaxing hot springs. Be careful because you may not realize how much uphill you have to do to get back to your car. I would recommend bringing lots of water. Despite the isolated location, these tubs are often crowded on weekends.
Click on the link below for directions to Big & Little Caliente Hot Springs
https://www.yelp.com/biz/big-caliente-little-caliente-hot-springs-santa-barbara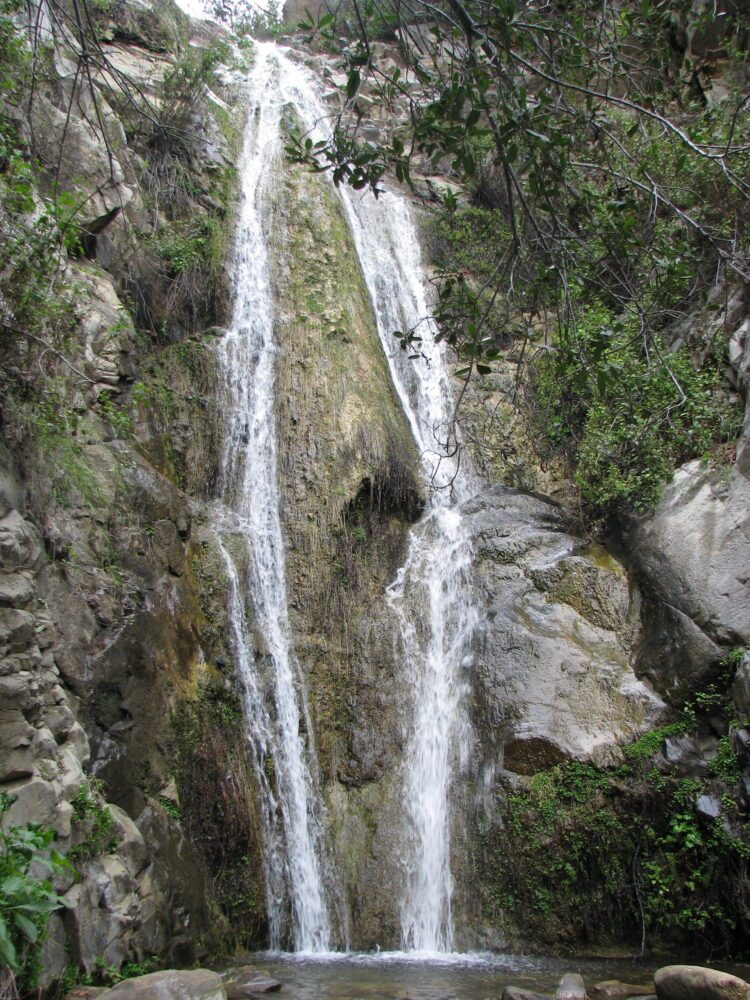 San Ysidro Waterfall
What sets the San Ysidro Trail apart from others is that the scenery along the way is equally as beautiful as the destination waterfall. It's a relatively easy hike walking through dense trees, beside huge boulders, passing by several sparkling ponds.
Click on the link below for directions to San Ysidro Waterfall
https://www.yelp.com/biz/san-ysidro-falls-trail-montecito