Perfectly positioned beachfront villa in Conchas Chinas, often referred to as the Beverly Hills of Puerto Vallarta, Villa Montecito provides sweeping, uninterrupted views of Banderas Bay. Just a short 10 min walk into Old Town / Romantic Zone, and 20 min south of the airport. Sunrise to sunset, you'll be swept away with sunshine, dazzling sunsets, soft breezes and whale watching from multiple outdoor gathering spaces.
Property Type: Villa
Bedrooms: 12
Baths: 12 full, 2 half baths
Sleeps: 24
Beds: 11 Kings, 2 Twins
Location: Puerto Vallarta
Rates From: $2,950-$6,723

Rates displayed in quote are for a 6 suite stay only.
For additional bedrooms (up to 12), please inquire.
See below for more information about Villa Montecito.
Villa Montecito presents a tropical, beachfront paradise with an unforgettable and massive 18,500 square feet of luxury indoor/outdoor living space, and features state of the art amenities on all four levels.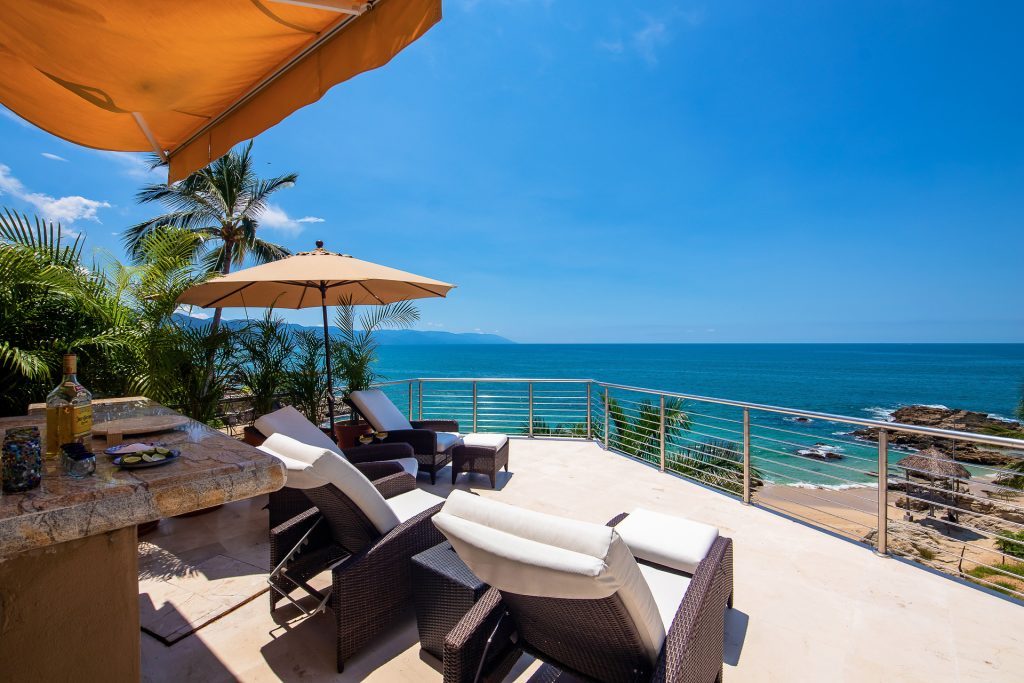 This exceptional, newly renovated and professionally decorated 12 bedroom,14 bath villa is located directly on the beach in Conchas Chinas, often referred to as the Beverly Hills of Puerto Vallarta. Villa Montecito is fully staffed with a complimentary villa manager, concierge service available, 24/7 houseman, two housekeepers, night watchman, cook and sous chef, waitstaff, and bartender. The Villa is available for rental as 6 bedrooms up to 12 bedrooms and will accommodate up to 24 guests.  All twelve beautifully decorated bedrooms offer en-suite baths, ocean view terraces, individual air-conditioning, hair dryers, bathrobes, bathroom essentials, and yoga mats. Sleeping accommodations include ten king size and four twin beds. (4 twin beds can be converted into 2 comfortable king beds upon advance request)
Upon entering Villa Montecito, you will be greeted with a refreshing welcome beverage and spectacular floor to ceiling views of Banderas Bay from the open terrace that runs the entire length of the villa, with sliding glass doors which can be completely opened up to warm sun and refreshing, ocean breezes.  This is the perfect spot to enjoy the views of the beautiful sandy beach cove with its picturesque rock formations, crystalline waters, and magnificent sunsets!
Here on the entry level you will find a plush and stylish living area with 80" flat screen Satellite TV, Sonos entertainment center with surround-sound, DVD/CD player, and fiber optics as well as high speed wireless internet throughout.
Delight in the fully equipped gourmet kitchen with state-of-the-art appliances, cappuccino station, outdoor seating area with wet bar and refrigerator, and a spacious dining area that comfortably seats 24 guests.
On the upper level is the master suite and three guest suites. Below the main living area there are five guest suites, and on the lowest level three guest suites that open onto the spacious terrace with a large saltwater infinity pool.  Lounge chairs, a poolside palapa covered bar, bbq and additional dining area for your relaxation and enjoyment await.  The covered palapa is the perfect place for massage and yoga too!  Here you will also find direct access to the pristine and beautiful sandy beach, surrounded by magnificent rock structures providing the best tidal pool adventures!  From the beach it's a short walk to nearby restaurants should you want to leave the villa.
Imagine a world where you can enjoy the very best features of a world class resort with all the advantages and convenience of your own private luxury villa.
Come enjoy the most idyllic private resort for your well-deserved and relaxing getaway. Magic and memories are promised here!
Bedrooms & Baths
For each room, please limit 2 registered adult guests and 2 pre-registered small children under 4 years of age, sleeping with parents. No additional beds will be provided.
Villa 6-Suite Rates
Rates shown include 6-Suites. Each additional suite (7 through 12) are $299/night per additional.
Christmas and New Year rates always include all 12 suites.


Notes
Rates shown do not include 19% Tax.
Minimum $30/per person per night staff gratuity, plus applicable fees.
Pool heating is available upon request for an additional fee.
Sundays & official Mexican holidays no chef service; however you may ask the concierge for additional services at additional cost.
Laundry not included. For personal items, please ask the concierge to get this service and pay for it separately.
4 night minimum during Summer & Winter. 7 night minimum during Christmas & New Year.
Villa Amenities
Internet, WIFI and cell phone services
The Villa is equipped with Fast Fiber optics Internet service and WIFI distribution via antennas in each room and in the common areas. Please inquire with the Houseman for help connecting to the internet. Please note that while mostly reliable, internet service in Mexico can be intermittent. Mobile phone reception is available most the time depending on atmospheric conditions and the phone company.
Music
Once connected to our WIFI, music Is available via SONOS wireless speakers, using the SONOS app or AirPlay in the lobby as well as the pool areas. Please consider the comfort of the neighbors and do not disturb the peace with loud music. Please turn down the volume and be respectful after 10 pm and or before 8 am.
TV
A large 80" 4K Samsung Smart TV, along with AppleTV is set up for your use with over 500 channels from all over the World including Netflix, HBO, ESPN, sports and movies, most US and Canadian channels are available through our internet. Don't hesitate to ask the Houseman if you need help.
Electricity, AC, and Water
Electricity is 110 V with US style plugs.
When using the AC please close all doors and windows and place the blinds down. It will only take 10 minutes for the AC to cool your room. Recommended temperature setting is 29 degrees Celsius. Water is filtered city water. We recommend consuming bottled water.
Please conserve energy and protect our environment by turning off all power and making sure the water is completely off.
Food & Beverage
Our Chef, Chef Assistant, Wait Staff, Houseman and Concierge are all here to make your stay and your meals as pleasant as possible for you.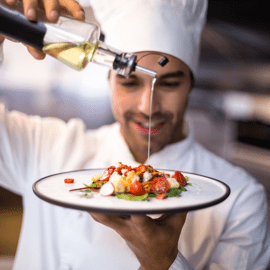 Meal Times
Breakfast 9 am
Lunch 1:30 pm
Dinner no later than 7:30 pm so that staff may clean up and finish at a reasonable time.
If you would like additional snacks, please advise the chef or the concierge. These snacks will be pre-made and provided for self service.
Meals are family style. We are happy to accommodate any allergies or special dietary needs. Please let us know in advance of each meal order. We suggest consuming bottled water rather than the city water from the tap.
Details
Food and beverage service includes shopping for your preferred food and beverage on daily basis, preparation, serving and clean up for two meals, Breakfast and Dinner, Breakfast and Lunch, or Lunch and Dinner.
Guests are responsible for full payment and the costs associated with the food service, all food and beverages or any item requested to be purchased for them is the responsibility of the guests. The concierge will provide an itemized list of the purchased materials, plus a 15% service fee for requests made and may require advance deposit with reconciliation for full payment at the end of each day.
Staff & Services
Except for Sundays and official holidays, staff at the Villa includes a Concierge, full time Chef, Chef assistant, Wait Staff, Housekeepers, Housman, Houseman Assistant, Gardner, Pool Service, and a Night Watchman.
Staff may be available on Sundays or holidays at an extra charge depending on the holiday. Please ask the concierge to make arrangements for your needs.
Concierge and Guest services
Our English speaking concierge will be at your service 24/7 to meet your needs and help you coordinate activities including snorkeling, fishing, boating, parachuting, and massages to name a few. There are many things to do while you are a guest of the Villa. Please coordinate your needs, dates and payments with the concierge.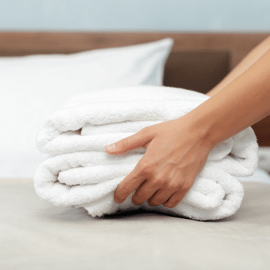 Housekeeping
Housekeepers under the supervision of the Houseman will clean your room, and replenish amenities when needed or requested. Bed sheets will be changed once every three nights or when requested. We make every effort to protect our planet's resources and the environment. Most of our guests choose to join us in this mission by using their towels more than once. Leave towels on the rack that you wish to use again and set them on the floor when you would like them replaced. Please do not place clean towels on the floor.
Tipping
Guests frequently ask us as to how much and how to tip the staff. We require at a minimum, that you tip $30 US Dollars, per guest, per night, plus applicable fees. For example: 12 guests that stayed for 6 nights would tip $30 x 12 x 6 = $2,160 (plus applicable fees).
You may provide the final amount to the Concierge and he will distribute tips to the staff equally. If you wish you may provide additional tipping to each staff separately. Tipping at restaurants is expected to be at least 15%, but if you are happy with the service 18% to 20% of your bill is recommended.
IMPORTANT
1* Make sure entry & exit doors are closed/locked upon exit or entry.
2* After Chef leaves no Access allowed to the kitchen
3* Pool Chemicals are added each night al 11 PM. No swimming after 11 PM